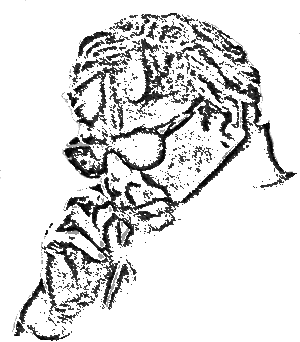 Terry Southern
(1924 - 1995)
Terry Southern was born May 1, 1924 in Alvarado, Texas and was an integral part of the post-Beat literary scene of the 60's. His screenplays Dr. Strangelove and Easy Rider defined the paranoia of the 1960's. Terry Southern was ironic before the whole world turned ironic, antiestablishment in a time when the Establishment still existed, irreverent when people were still reverent. Reviewers called his satirical novels Candy and The Magic Christian "savage" before it became routine for comedy to be savage. His anarchic, obscene literary comedy made him so famous that the Beatles included him in the background of their Sgt. Pepper album jacket cover. Terry Southern is wearing his signature dark sun glasses behind John Lennon. Terry Southern wrote both the source material and the screenplay for one of Ringo Starr's first solo film efforts, The Magic Christian.
Terry Southern began rewriting Edgar Allan Poe stories "because they didn't go far enough" at the age of twelve. He served in the Army during World War II as a Lieutenant and wrote short stories while studying at the Sorbonne in France. An early work, "The Accident", was published in the premier issue of The Paris Review, the first short story to appear in that magazine. He admired and befriended British novelist Henry Greene, who convinced Andre Deutch to publish his first novel, Flash and Filigree (1958). Residing with his first wife Carol in Geneva, he conjured the surrealistic exploits for trillionaire trickster "Grand Guy Guy Grand" in The Magic Christian (1959) while at the same time writing Candy (1960) for Maurice Girodias' Olympia Press. He and Gregory Corso convinced Girodias to print William S. Burrough's Naked Lunch. Southern published numerous short stories in England, France and America which were later compiled in Red Dirt Marijuana and Other Tastes (1967), and co-edited Writers in Revolt with Alex Trocci and Richard Seaver in 1962.
After settling in an old farmhouse in East Canaan, Connecticut, Stanley Kubrick asked Southern to apply his black humor to a story about the world ending in nuclear holocaust. Columbia Pictures insisted all along that there was nothing funny about the end of the world, but Terry Southern felt otherwise. The result was the 1964 hit movie Dr. Strangelove or: How I Learned to Stop Worrying and Love the Bomb. Kubrick was miffed when Southern's script attracted praise from reviewers. The film came out when Candy was a bestseller and Southern's reputation briefly eclipsed Kubrick's. From England, Kubrick began announcing that he was the true author of the film, marginalizing Southern's role. A typical Terry Southern character in the movie is Colonel "Bat" Guano (Keenan Wynn) who thinks "pervert" is pronounced "prevert" and denounces an English RAF officer played by Peter Sellers. "I think you're some kind of deviated prevert." says Guano. For some months afterward, "prevert" became part of the English language. In the film, the chairman of the Joint Chiefs of Staff (George C. Scott) arguing for a preemptive nuclear strike against Russia, insists that American losses won't be all that bad: "I'm not saying we wouldn't get our hair mussed. But I do say no more than 10 to 20 million killed, tops. Uh, depending on the breaks." When humanity is about to be destroyed, the Scott character sulks: "I don't think it's quite fair to condemn a whole program because of a single slip-up."
A rewarding period in Hollywood followed, writing dialog for The Loved One (1965), The Collector, Cincinnati Kid (1966), Casino Royale and Barbarella (1967). Terry helped launch the independent film movement by co-authoring Easy Rider (1968), and co-producing The End Of The Road (1969).
The Loved One, from the Evelyn Waugh novel, had an unlikely cast that included Milton Berle, John Gielgud and Liberace. On the set, Southern met his future wife, Canadian Gail Gerber. She had danced with Les Grands Ballets Canadiens in Montreal and then worked at the CBC in Toronto. Gerber went to Los Angeles and picked up a small part in The Loved One.
Southern wrote Easy Rider, a gigantic hit, but was persuaded to share script credit with Peter Fonda and Dennis Hopper. All three were nominated for an Academy Award. Jack Nicholson's role as a small-town Southern lawyer launched his career. Dennis Hopper wanted the main characters to ride into the sunset, but Southern insisted that "there were no happy endings". Disputes raged for years afterward about the film between Southern and the actors/producers. He argued that according to the Screenwriters Guild guidelines, he should have been awarded sole credit for the screenplay. Southern always felt that "vicious greed" kept him from getting the fees and credit due him for Easy Rider.
In 1968 Southern participated in the 1968 Chicago Democratic Convention riots against the Vietnam War along with Allen Ginsberg, William S. Burroughs and Jean Genet. A cover shot of Esquire shows the writers posed with a wounded protester. The photo was taken in New York because they were all arrested setting the shot in Chicago.
After the publication surrounding Blue Movie (1970), he turned to screenwriting full-time, working on speculative original scripts, adaptations, and assignments throughout the 70s and 80s. During this difficult period, Southern's reputation slowly ebbed and the IRS repeatedly attempted to reclaim over $150,000 in unpaid taxes from the mid-sixties. He wrote The Telephone (1986) with singer-songwriter Harry Nilsson. His last novel, Texas Summer, was released by Richard Seaver in 1992.
In 1981 and 1982, Southern was a writer for "Saturday Night Live" while the show was going through one of its 'spells'. From this time until his death, Terry Southern taught film once a week at Columbia University and NYU. In his last years, he was usually short of cash and bothered by the IRS. Terry Southern was the sort of writer who could somehow incur a huge tax bill without making much money. Nile Southern, the writer's son, has been trying to manage the estate's debts and sort out the copyright issues that his father handled so carelessly.
Terry Southern's mission in life was to "attack smugness". He used anarchic humor to strike at sexual repression, militarism and political corruption. Although his later works did not attract widespread attention, Southern changed American taste. But in doing so, he also made himself irrelevant. By the time he died in 1995, Terry Southern had been imitated so often that it is hard to remember that his work inspired controversy.
Terry Southern's manuscripts, letters and other private papers along with his eyeglasses, typewriter and whiskey flask are now in the New York Public Library's Berg Collection.
---
Dr. Strangelove on DVD
Dr. Strangelove Or: How I Learned To Stop Worrying And Love The Bomb -Terry Southern - Before New Journalism, before the waggish cinema of Woody Allen, before the Gonzo World of Hunter S. Thompson, Saturday Night Live, and National Lampoon, there was the legendary Terry Southern—author of Candy and The Magic Christian and the screenwriter of Dr. Strangelove and Easy Rider.

Red-Dirt Marijuana and Other Tastes, widely recognized as an underground classic, is a collection of Southern's short pieces, two dozen hilarious, well-observed, and devastating sketches that expose the hypocrisy of American social mores. This edition features an introduction by George Plimpton, one of Southern's longtime literary allies and former editor of The Paris Review.

"Terry Southern is the illegitimate son of Mack Sennett and Edna St. Vincent Millay." —Kurt Vonnegut

"Terry Southern writes a clean, mean, coolly deliberate, and murderous prose." —Norman Mailer

"If there was a Mt. Rushmore of modern American humor, Terry Southern would be the mountain they carve it on."
—Michale O'Donoghue

"Impressive . . . He is both acutely aware of, and the absolute master of the nuances, the ludicrous snobbishness, the deliberate exclusivity of clique vocabulary. . . . With demoniacal cunning he masquerades as the guardian of taste, of responsibility, and of common decency (Mr. Southern's italics, of course)." —New York Times

List Price:$9.99
Our Price:$9.99

---
Dr. Strangelove, Or: How I Learned to Stop Worrying and Love the Bomb (Special Edition) -Terry Southern - - Condition: New - Format: DVD - Black & White; Closed-captioned; DVD; Full Screen; Special Edition; Subtitled; Widescreen; NTSC Before New Journalism, before the waggish cinema of Woody Allen, before the Gonzo World of Hunter S. Thompson, Saturday Night Live, and National Lampoon, there was the legendary Terry Southern—author of Candy and The Magic Christian and the screenwriter of Dr. Strangelove and Easy Rider.

Red-Dirt Marijuana and Other Tastes, widely recognized as an underground classic, is a collection of Southern's short pieces, two dozen hilarious, well-observed, and devastating sketches that expose the hypocrisy of American social mores. This edition features an introduction by George Plimpton, one of Southern's longtime literary allies and former editor of The Paris Review.

"Terry Southern is the illegitimate son of Mack Sennett and Edna St. Vincent Millay." —Kurt Vonnegut

"Terry Southern writes a clean, mean, coolly deliberate, and murderous prose." —Norman Mailer

"If there was a Mt. Rushmore of modern American humor, Terry Southern would be the mountain they carve it on."
—Michale O'Donoghue

"Impressive . . . He is both acutely aware of, and the absolute master of the nuances, the ludicrous snobbishness, the deliberate exclusivity of clique vocabulary. . . . With demoniacal cunning he masquerades as the guardian of taste, of responsibility, and of common decency (Mr. Southern's italics, of course)." —New York Times

List Price:$9.99
Our Price:$9.99

---
Dr. Strangelove, Or: How I Learned to Stop Worrying and Love the Bomb (The Criterion Collection) [Blu-ray] -Terry Southern - Before New Journalism, before the waggish cinema of Woody Allen, before the Gonzo World of Hunter S. Thompson, Saturday Night Live, and National Lampoon, there was the legendary Terry Southern—author of Candy and The Magic Christian and the screenwriter of Dr. Strangelove and Easy Rider.

Red-Dirt Marijuana and Other Tastes, widely recognized as an underground classic, is a collection of Southern's short pieces, two dozen hilarious, well-observed, and devastating sketches that expose the hypocrisy of American social mores. This edition features an introduction by George Plimpton, one of Southern's longtime literary allies and former editor of The Paris Review.

"Terry Southern is the illegitimate son of Mack Sennett and Edna St. Vincent Millay." —Kurt Vonnegut

"Terry Southern writes a clean, mean, coolly deliberate, and murderous prose." —Norman Mailer

"If there was a Mt. Rushmore of modern American humor, Terry Southern would be the mountain they carve it on."
—Michale O'Donoghue

"Impressive . . . He is both acutely aware of, and the absolute master of the nuances, the ludicrous snobbishness, the deliberate exclusivity of clique vocabulary. . . . With demoniacal cunning he masquerades as the guardian of taste, of responsibility, and of common decency (Mr. Southern's italics, of course)." —New York Times

List Price:$24.96
Our Price:$24.96

---
Dr Strangelove / [Blu-ray] -Terry Southern - Before New Journalism, before the waggish cinema of Woody Allen, before the Gonzo World of Hunter S. Thompson, Saturday Night Live, and National Lampoon, there was the legendary Terry Southern—author of Candy and The Magic Christian and the screenwriter of Dr. Strangelove and Easy Rider.

Red-Dirt Marijuana and Other Tastes, widely recognized as an underground classic, is a collection of Southern's short pieces, two dozen hilarious, well-observed, and devastating sketches that expose the hypocrisy of American social mores. This edition features an introduction by George Plimpton, one of Southern's longtime literary allies and former editor of The Paris Review.

"Terry Southern is the illegitimate son of Mack Sennett and Edna St. Vincent Millay." —Kurt Vonnegut

"Terry Southern writes a clean, mean, coolly deliberate, and murderous prose." —Norman Mailer

"If there was a Mt. Rushmore of modern American humor, Terry Southern would be the mountain they carve it on."
—Michale O'Donoghue

"Impressive . . . He is both acutely aware of, and the absolute master of the nuances, the ludicrous snobbishness, the deliberate exclusivity of clique vocabulary. . . . With demoniacal cunning he masquerades as the guardian of taste, of responsibility, and of common decency (Mr. Southern's italics, of course)." —New York Times

List Price:$20.99
Our Price:$20.98

---
Stanley Kubrick Collection (Lolita / Dr. Strangelove / 2001: A Space Odyssey / A Clockwork Orange / Barry Lyndon / The Shining / Full Metal Jacket) -Terry Southern - Before New Journalism, before the waggish cinema of Woody Allen, before the Gonzo World of Hunter S. Thompson, Saturday Night Live, and National Lampoon, there was the legendary Terry Southern—author of Candy and The Magic Christian and the screenwriter of Dr. Strangelove and Easy Rider.

Red-Dirt Marijuana and Other Tastes, widely recognized as an underground classic, is a collection of Southern's short pieces, two dozen hilarious, well-observed, and devastating sketches that expose the hypocrisy of American social mores. This edition features an introduction by George Plimpton, one of Southern's longtime literary allies and former editor of The Paris Review.

"Terry Southern is the illegitimate son of Mack Sennett and Edna St. Vincent Millay." —Kurt Vonnegut

"Terry Southern writes a clean, mean, coolly deliberate, and murderous prose." —Norman Mailer

"If there was a Mt. Rushmore of modern American humor, Terry Southern would be the mountain they carve it on."
—Michale O'Donoghue

"Impressive . . . He is both acutely aware of, and the absolute master of the nuances, the ludicrous snobbishness, the deliberate exclusivity of clique vocabulary. . . . With demoniacal cunning he masquerades as the guardian of taste, of responsibility, and of common decency (Mr. Southern's italics, of course)." —New York Times

List Price:
Our Price:

---
Kubrick Dr. Strangelove Steelbook + Criterion Paths of Glory Blu Ray Collection -Terry Southern - Before New Journalism, before the waggish cinema of Woody Allen, before the Gonzo World of Hunter S. Thompson, Saturday Night Live, and National Lampoon, there was the legendary Terry Southern—author of Candy and The Magic Christian and the screenwriter of Dr. Strangelove and Easy Rider.

Red-Dirt Marijuana and Other Tastes, widely recognized as an underground classic, is a collection of Southern's short pieces, two dozen hilarious, well-observed, and devastating sketches that expose the hypocrisy of American social mores. This edition features an introduction by George Plimpton, one of Southern's longtime literary allies and former editor of The Paris Review.

"Terry Southern is the illegitimate son of Mack Sennett and Edna St. Vincent Millay." —Kurt Vonnegut

"Terry Southern writes a clean, mean, coolly deliberate, and murderous prose." —Norman Mailer

"If there was a Mt. Rushmore of modern American humor, Terry Southern would be the mountain they carve it on."
—Michale O'Donoghue

"Impressive . . . He is both acutely aware of, and the absolute master of the nuances, the ludicrous snobbishness, the deliberate exclusivity of clique vocabulary. . . . With demoniacal cunning he masquerades as the guardian of taste, of responsibility, and of common decency (Mr. Southern's italics, of course)." —New York Times

List Price:$47.95
Our Price:$69.99

---
Stanley Kubrick Collection (2001: A Space Odyssey / Dr. Strangelove / A Clockwork Orange / The Shining / Lolita / Barry Lyndon / Full Metal Jacket / Eyes Wide Shut) -Terry Southern - Before New Journalism, before the waggish cinema of Woody Allen, before the Gonzo World of Hunter S. Thompson, Saturday Night Live, and National Lampoon, there was the legendary Terry Southern—author of Candy and The Magic Christian and the screenwriter of Dr. Strangelove and Easy Rider.

Red-Dirt Marijuana and Other Tastes, widely recognized as an underground classic, is a collection of Southern's short pieces, two dozen hilarious, well-observed, and devastating sketches that expose the hypocrisy of American social mores. This edition features an introduction by George Plimpton, one of Southern's longtime literary allies and former editor of The Paris Review.

"Terry Southern is the illegitimate son of Mack Sennett and Edna St. Vincent Millay." —Kurt Vonnegut

"Terry Southern writes a clean, mean, coolly deliberate, and murderous prose." —Norman Mailer

"If there was a Mt. Rushmore of modern American humor, Terry Southern would be the mountain they carve it on."
—Michale O'Donoghue

"Impressive . . . He is both acutely aware of, and the absolute master of the nuances, the ludicrous snobbishness, the deliberate exclusivity of clique vocabulary. . . . With demoniacal cunning he masquerades as the guardian of taste, of responsibility, and of common decency (Mr. Southern's italics, of course)." —New York Times

List Price:
Our Price:

---
Stanley Kurbrick's Dr. Strangelove: Gallery 1988 Range Limited Edition Steelbook [Blu-ray] -Terry Southern - Before New Journalism, before the waggish cinema of Woody Allen, before the Gonzo World of Hunter S. Thompson, Saturday Night Live, and National Lampoon, there was the legendary Terry Southern—author of Candy and The Magic Christian and the screenwriter of Dr. Strangelove and Easy Rider.

Red-Dirt Marijuana and Other Tastes, widely recognized as an underground classic, is a collection of Southern's short pieces, two dozen hilarious, well-observed, and devastating sketches that expose the hypocrisy of American social mores. This edition features an introduction by George Plimpton, one of Southern's longtime literary allies and former editor of The Paris Review.

"Terry Southern is the illegitimate son of Mack Sennett and Edna St. Vincent Millay." —Kurt Vonnegut

"Terry Southern writes a clean, mean, coolly deliberate, and murderous prose." —Norman Mailer

"If there was a Mt. Rushmore of modern American humor, Terry Southern would be the mountain they carve it on."
—Michale O'Donoghue

"Impressive . . . He is both acutely aware of, and the absolute master of the nuances, the ludicrous snobbishness, the deliberate exclusivity of clique vocabulary. . . . With demoniacal cunning he masquerades as the guardian of taste, of responsibility, and of common decency (Mr. Southern's italics, of course)." —New York Times

List Price:
Our Price:

---
Stanley Kubrick: Limited Edition Collection (Spartacus / Lolita / Dr. Strangelove / 2001: A Space Odyssey / A Clockwork Orange / Barry Lyndon / The Shining / Full Metal Jacket / Eyes Wide Shut) [Blu-ray] -Terry Southern - - Blu-ray - Gift Box Before New Journalism, before the waggish cinema of Woody Allen, before the Gonzo World of Hunter S. Thompson, Saturday Night Live, and National Lampoon, there was the legendary Terry Southern—author of Candy and The Magic Christian and the screenwriter of Dr. Strangelove and Easy Rider.

Red-Dirt Marijuana and Other Tastes, widely recognized as an underground classic, is a collection of Southern's short pieces, two dozen hilarious, well-observed, and devastating sketches that expose the hypocrisy of American social mores. This edition features an introduction by George Plimpton, one of Southern's longtime literary allies and former editor of The Paris Review.

"Terry Southern is the illegitimate son of Mack Sennett and Edna St. Vincent Millay." —Kurt Vonnegut

"Terry Southern writes a clean, mean, coolly deliberate, and murderous prose." —Norman Mailer

"If there was a Mt. Rushmore of modern American humor, Terry Southern would be the mountain they carve it on."
—Michale O'Donoghue

"Impressive . . . He is both acutely aware of, and the absolute master of the nuances, the ludicrous snobbishness, the deliberate exclusivity of clique vocabulary. . . . With demoniacal cunning he masquerades as the guardian of taste, of responsibility, and of common decency (Mr. Southern's italics, of course)." —New York Times

List Price:$148.99
Our Price:

---
Stanley Kubrick Collection: 2001: A Space Odyssey / Full Metal Jacket / The Shining / Lolita/Barry Lyndon / A Clockwork Orange / Eyes Wide Shut / Dr Strangelove [DVD] -Terry Southern - Before New Journalism, before the waggish cinema of Woody Allen, before the Gonzo World of Hunter S. Thompson, Saturday Night Live, and National Lampoon, there was the legendary Terry Southern—author of Candy and The Magic Christian and the screenwriter of Dr. Strangelove and Easy Rider.

Red-Dirt Marijuana and Other Tastes, widely recognized as an underground classic, is a collection of Southern's short pieces, two dozen hilarious, well-observed, and devastating sketches that expose the hypocrisy of American social mores. This edition features an introduction by George Plimpton, one of Southern's longtime literary allies and former editor of The Paris Review.

"Terry Southern is the illegitimate son of Mack Sennett and Edna St. Vincent Millay." —Kurt Vonnegut

"Terry Southern writes a clean, mean, coolly deliberate, and murderous prose." —Norman Mailer

"If there was a Mt. Rushmore of modern American humor, Terry Southern would be the mountain they carve it on."
—Michale O'Donoghue

"Impressive . . . He is both acutely aware of, and the absolute master of the nuances, the ludicrous snobbishness, the deliberate exclusivity of clique vocabulary. . . . With demoniacal cunning he masquerades as the guardian of taste, of responsibility, and of common decency (Mr. Southern's italics, of course)." —New York Times

List Price:
Our Price:

---
Easy Rider on DVD
Easy Rider -Terry Southern -

Harold Stevens is twelve years old, heading hell-bent for thirteen, away from the comfort of his mother's care to the realities of the world beyond. Grandfather would gladly initiate him into the world's ways, but his lessons are more prattle than practical. Harold's older friends dare him into danger and expose him to new—and not always edifying—experiences. But his real mentor is C.K., the twenty-three-year-old black hired hand on his father's farm.

Together they fish for the legendary catfish down at the local pond, dare bulls, pick gage from among the wild cactus, and carefully dry it and store it for future use. C.K. takes Harold with him when he run errands in town, and brings him into the mysterious black world beyond the railroad tracks. There Harold learns of C.K.'s big brother, "Big Nail" Emmet, doing time for murder, and of Big Nail's wife, Cora Lee. There is a fraying bond between the two brothers that Harold senses but cannot really fathom. Until one day the two brothers meet in a macabre, ritualistic dance of death.

Sensitive, understated, Texas Summer evokes a time and place with the same sensitivity one finds in Hemingway's Nick Adams stories.

Skyhorse Publishing, as well as our Arcade, Yucca, and Good Books imprints, are proud to publish a broad range of books for readers interested in fiction—novels, novellas, political and medical thrillers, comedy, satire, historical fiction, romance, erotic and love stories, mystery, classic literature, folklore and mythology, literary classics including Shakespeare, Dumas, Wilde, Cather, and much more. While not every title we publish becomes a New York Times bestseller or a national bestseller, we are committed to books on subjects that are sometimes overlooked and to authors whose work might not otherwise find a home.

List Price:$9.99
Our Price:$9.99

---
Easy Rider (Special Edition) -Terry Southern -

Harold Stevens is twelve years old, heading hell-bent for thirteen, away from the comfort of his mother's care to the realities of the world beyond. Grandfather would gladly initiate him into the world's ways, but his lessons are more prattle than practical. Harold's older friends dare him into danger and expose him to new—and not always edifying—experiences. But his real mentor is C.K., the twenty-three-year-old black hired hand on his father's farm.

Together they fish for the legendary catfish down at the local pond, dare bulls, pick gage from among the wild cactus, and carefully dry it and store it for future use. C.K. takes Harold with him when he run errands in town, and brings him into the mysterious black world beyond the railroad tracks. There Harold learns of C.K.'s big brother, "Big Nail" Emmet, doing time for murder, and of Big Nail's wife, Cora Lee. There is a fraying bond between the two brothers that Harold senses but cannot really fathom. Until one day the two brothers meet in a macabre, ritualistic dance of death.

Sensitive, understated, Texas Summer evokes a time and place with the same sensitivity one finds in Hemingway's Nick Adams stories.

Skyhorse Publishing, as well as our Arcade, Yucca, and Good Books imprints, are proud to publish a broad range of books for readers interested in fiction—novels, novellas, political and medical thrillers, comedy, satire, historical fiction, romance, erotic and love stories, mystery, classic literature, folklore and mythology, literary classics including Shakespeare, Dumas, Wilde, Cather, and much more. While not every title we publish becomes a New York Times bestseller or a national bestseller, we are committed to books on subjects that are sometimes overlooked and to authors whose work might not otherwise find a home.

List Price:$9.99
Our Price:$7.50

---
Easy Rider: The Ride Back -Terry Southern -

Harold Stevens is twelve years old, heading hell-bent for thirteen, away from the comfort of his mother's care to the realities of the world beyond. Grandfather would gladly initiate him into the world's ways, but his lessons are more prattle than practical. Harold's older friends dare him into danger and expose him to new—and not always edifying—experiences. But his real mentor is C.K., the twenty-three-year-old black hired hand on his father's farm.

Together they fish for the legendary catfish down at the local pond, dare bulls, pick gage from among the wild cactus, and carefully dry it and store it for future use. C.K. takes Harold with him when he run errands in town, and brings him into the mysterious black world beyond the railroad tracks. There Harold learns of C.K.'s big brother, "Big Nail" Emmet, doing time for murder, and of Big Nail's wife, Cora Lee. There is a fraying bond between the two brothers that Harold senses but cannot really fathom. Until one day the two brothers meet in a macabre, ritualistic dance of death.

Sensitive, understated, Texas Summer evokes a time and place with the same sensitivity one finds in Hemingway's Nick Adams stories.

Skyhorse Publishing, as well as our Arcade, Yucca, and Good Books imprints, are proud to publish a broad range of books for readers interested in fiction—novels, novellas, political and medical thrillers, comedy, satire, historical fiction, romance, erotic and love stories, mystery, classic literature, folklore and mythology, literary classics including Shakespeare, Dumas, Wilde, Cather, and much more. While not every title we publish becomes a New York Times bestseller or a national bestseller, we are committed to books on subjects that are sometimes overlooked and to authors whose work might not otherwise find a home.

List Price:$12.99
Our Price:$12.99

---
Easy Rider: The Ride Back -Terry Southern - - Brand Name: KNV Mfg#: 738329118624 - Shipping Weight: 0.16 lbs - Manufacturer: - Genre: - All music products are properly licensed and guaranteed authentic.

Harold Stevens is twelve years old, heading hell-bent for thirteen, away from the comfort of his mother's care to the realities of the world beyond. Grandfather would gladly initiate him into the world's ways, but his lessons are more prattle than practical. Harold's older friends dare him into danger and expose him to new—and not always edifying—experiences. But his real mentor is C.K., the twenty-three-year-old black hired hand on his father's farm.

Together they fish for the legendary catfish down at the local pond, dare bulls, pick gage from among the wild cactus, and carefully dry it and store it for future use. C.K. takes Harold with him when he run errands in town, and brings him into the mysterious black world beyond the railroad tracks. There Harold learns of C.K.'s big brother, "Big Nail" Emmet, doing time for murder, and of Big Nail's wife, Cora Lee. There is a fraying bond between the two brothers that Harold senses but cannot really fathom. Until one day the two brothers meet in a macabre, ritualistic dance of death.

Sensitive, understated, Texas Summer evokes a time and place with the same sensitivity one finds in Hemingway's Nick Adams stories.

Skyhorse Publishing, as well as our Arcade, Yucca, and Good Books imprints, are proud to publish a broad range of books for readers interested in fiction—novels, novellas, political and medical thrillers, comedy, satire, historical fiction, romance, erotic and love stories, mystery, classic literature, folklore and mythology, literary classics including Shakespeare, Dumas, Wilde, Cather, and much more. While not every title we publish becomes a New York Times bestseller or a national bestseller, we are committed to books on subjects that are sometimes overlooked and to authors whose work might not otherwise find a home.

List Price:$19.99
Our Price:$19.29

---
America Lost and Found: The BBS Story (Head / Easy Rider / Five Easy Pieces / Drive, He Said / The Last Picture Show / The King of Marvin Gardens / A Safe Place) (The Criterion Collection)[Blu-ray] -Terry Southern - - Condition: New - Format: Blu-ray - Widescreen

Harold Stevens is twelve years old, heading hell-bent for thirteen, away from the comfort of his mother's care to the realities of the world beyond. Grandfather would gladly initiate him into the world's ways, but his lessons are more prattle than practical. Harold's older friends dare him into danger and expose him to new—and not always edifying—experiences. But his real mentor is C.K., the twenty-three-year-old black hired hand on his father's farm.

Together they fish for the legendary catfish down at the local pond, dare bulls, pick gage from among the wild cactus, and carefully dry it and store it for future use. C.K. takes Harold with him when he run errands in town, and brings him into the mysterious black world beyond the railroad tracks. There Harold learns of C.K.'s big brother, "Big Nail" Emmet, doing time for murder, and of Big Nail's wife, Cora Lee. There is a fraying bond between the two brothers that Harold senses but cannot really fathom. Until one day the two brothers meet in a macabre, ritualistic dance of death.

Sensitive, understated, Texas Summer evokes a time and place with the same sensitivity one finds in Hemingway's Nick Adams stories.

Skyhorse Publishing, as well as our Arcade, Yucca, and Good Books imprints, are proud to publish a broad range of books for readers interested in fiction—novels, novellas, political and medical thrillers, comedy, satire, historical fiction, romance, erotic and love stories, mystery, classic literature, folklore and mythology, literary classics including Shakespeare, Dumas, Wilde, Cather, and much more. While not every title we publish becomes a New York Times bestseller or a national bestseller, we are committed to books on subjects that are sometimes overlooked and to authors whose work might not otherwise find a home.

List Price:$81.24
Our Price:$62.49

---
Easy Riders, Raging Bulls -Terry Southern - - Inspired by comments from moviemaking luminaries such as Martin Scorsese and Paul Schrader, former Premiere Magazine editor Peter Biskind set about chronicling the work of 1970s filmmakers in his 1999 book EASY RIDERS, RAGING BULLS. After the critical and commercial success of the exhaustive tome, it seemed only natural to transfer his fascinating tales to the screen, and the Trio channel duly obl

Harold Stevens is twelve years old, heading hell-bent for thirteen, away from the comfort of his mother's care to the realities of the world beyond. Grandfather would gladly initiate him into the world's ways, but his lessons are more prattle than practical. Harold's older friends dare him into danger and expose him to new—and not always edifying—experiences. But his real mentor is C.K., the twenty-three-year-old black hired hand on his father's farm.

Together they fish for the legendary catfish down at the local pond, dare bulls, pick gage from among the wild cactus, and carefully dry it and store it for future use. C.K. takes Harold with him when he run errands in town, and brings him into the mysterious black world beyond the railroad tracks. There Harold learns of C.K.'s big brother, "Big Nail" Emmet, doing time for murder, and of Big Nail's wife, Cora Lee. There is a fraying bond between the two brothers that Harold senses but cannot really fathom. Until one day the two brothers meet in a macabre, ritualistic dance of death.

Sensitive, understated, Texas Summer evokes a time and place with the same sensitivity one finds in Hemingway's Nick Adams stories.

Skyhorse Publishing, as well as our Arcade, Yucca, and Good Books imprints, are proud to publish a broad range of books for readers interested in fiction—novels, novellas, political and medical thrillers, comedy, satire, historical fiction, romance, erotic and love stories, mystery, classic literature, folklore and mythology, literary classics including Shakespeare, Dumas, Wilde, Cather, and much more. While not every title we publish becomes a New York Times bestseller or a national bestseller, we are committed to books on subjects that are sometimes overlooked and to authors whose work might not otherwise find a home.

List Price:$9.50
Our Price:$9.50

---
Easy Rider [Reino Unido] [Blu-ray] -Terry Southern -

Harold Stevens is twelve years old, heading hell-bent for thirteen, away from the comfort of his mother's care to the realities of the world beyond. Grandfather would gladly initiate him into the world's ways, but his lessons are more prattle than practical. Harold's older friends dare him into danger and expose him to new—and not always edifying—experiences. But his real mentor is C.K., the twenty-three-year-old black hired hand on his father's farm.

Together they fish for the legendary catfish down at the local pond, dare bulls, pick gage from among the wild cactus, and carefully dry it and store it for future use. C.K. takes Harold with him when he run errands in town, and brings him into the mysterious black world beyond the railroad tracks. There Harold learns of C.K.'s big brother, "Big Nail" Emmet, doing time for murder, and of Big Nail's wife, Cora Lee. There is a fraying bond between the two brothers that Harold senses but cannot really fathom. Until one day the two brothers meet in a macabre, ritualistic dance of death.

Sensitive, understated, Texas Summer evokes a time and place with the same sensitivity one finds in Hemingway's Nick Adams stories.

Skyhorse Publishing, as well as our Arcade, Yucca, and Good Books imprints, are proud to publish a broad range of books for readers interested in fiction—novels, novellas, political and medical thrillers, comedy, satire, historical fiction, romance, erotic and love stories, mystery, classic literature, folklore and mythology, literary classics including Shakespeare, Dumas, Wilde, Cather, and much more. While not every title we publish becomes a New York Times bestseller or a national bestseller, we are committed to books on subjects that are sometimes overlooked and to authors whose work might not otherwise find a home.

List Price:
Our Price:

---
Easy Rider II The Ride Back (Military Edition) -Terry Southern -

Harold Stevens is twelve years old, heading hell-bent for thirteen, away from the comfort of his mother's care to the realities of the world beyond. Grandfather would gladly initiate him into the world's ways, but his lessons are more prattle than practical. Harold's older friends dare him into danger and expose him to new—and not always edifying—experiences. But his real mentor is C.K., the twenty-three-year-old black hired hand on his father's farm.

Together they fish for the legendary catfish down at the local pond, dare bulls, pick gage from among the wild cactus, and carefully dry it and store it for future use. C.K. takes Harold with him when he run errands in town, and brings him into the mysterious black world beyond the railroad tracks. There Harold learns of C.K.'s big brother, "Big Nail" Emmet, doing time for murder, and of Big Nail's wife, Cora Lee. There is a fraying bond between the two brothers that Harold senses but cannot really fathom. Until one day the two brothers meet in a macabre, ritualistic dance of death.

Sensitive, understated, Texas Summer evokes a time and place with the same sensitivity one finds in Hemingway's Nick Adams stories.

Skyhorse Publishing, as well as our Arcade, Yucca, and Good Books imprints, are proud to publish a broad range of books for readers interested in fiction—novels, novellas, political and medical thrillers, comedy, satire, historical fiction, romance, erotic and love stories, mystery, classic literature, folklore and mythology, literary classics including Shakespeare, Dumas, Wilde, Cather, and much more. While not every title we publish becomes a New York Times bestseller or a national bestseller, we are committed to books on subjects that are sometimes overlooked and to authors whose work might not otherwise find a home.

List Price:$26.96
Our Price:$26.96

---
Easy Riders, Raging Bulls by Shout Factory -Terry Southern -

Harold Stevens is twelve years old, heading hell-bent for thirteen, away from the comfort of his mother's care to the realities of the world beyond. Grandfather would gladly initiate him into the world's ways, but his lessons are more prattle than practical. Harold's older friends dare him into danger and expose him to new—and not always edifying—experiences. But his real mentor is C.K., the twenty-three-year-old black hired hand on his father's farm.

Together they fish for the legendary catfish down at the local pond, dare bulls, pick gage from among the wild cactus, and carefully dry it and store it for future use. C.K. takes Harold with him when he run errands in town, and brings him into the mysterious black world beyond the railroad tracks. There Harold learns of C.K.'s big brother, "Big Nail" Emmet, doing time for murder, and of Big Nail's wife, Cora Lee. There is a fraying bond between the two brothers that Harold senses but cannot really fathom. Until one day the two brothers meet in a macabre, ritualistic dance of death.

Sensitive, understated, Texas Summer evokes a time and place with the same sensitivity one finds in Hemingway's Nick Adams stories.

Skyhorse Publishing, as well as our Arcade, Yucca, and Good Books imprints, are proud to publish a broad range of books for readers interested in fiction—novels, novellas, political and medical thrillers, comedy, satire, historical fiction, romance, erotic and love stories, mystery, classic literature, folklore and mythology, literary classics including Shakespeare, Dumas, Wilde, Cather, and much more. While not every title we publish becomes a New York Times bestseller or a national bestseller, we are committed to books on subjects that are sometimes overlooked and to authors whose work might not otherwise find a home.

List Price:
Our Price:

---
Easy Rider (35th Anniversary Deluxe Edition) by Sony Pictures Home Entertainment -Terry Southern -

Harold Stevens is twelve years old, heading hell-bent for thirteen, away from the comfort of his mother's care to the realities of the world beyond. Grandfather would gladly initiate him into the world's ways, but his lessons are more prattle than practical. Harold's older friends dare him into danger and expose him to new—and not always edifying—experiences. But his real mentor is C.K., the twenty-three-year-old black hired hand on his father's farm.

Together they fish for the legendary catfish down at the local pond, dare bulls, pick gage from among the wild cactus, and carefully dry it and store it for future use. C.K. takes Harold with him when he run errands in town, and brings him into the mysterious black world beyond the railroad tracks. There Harold learns of C.K.'s big brother, "Big Nail" Emmet, doing time for murder, and of Big Nail's wife, Cora Lee. There is a fraying bond between the two brothers that Harold senses but cannot really fathom. Until one day the two brothers meet in a macabre, ritualistic dance of death.

Sensitive, understated, Texas Summer evokes a time and place with the same sensitivity one finds in Hemingway's Nick Adams stories.

Skyhorse Publishing, as well as our Arcade, Yucca, and Good Books imprints, are proud to publish a broad range of books for readers interested in fiction—novels, novellas, political and medical thrillers, comedy, satire, historical fiction, romance, erotic and love stories, mystery, classic literature, folklore and mythology, literary classics including Shakespeare, Dumas, Wilde, Cather, and much more. While not every title we publish becomes a New York Times bestseller or a national bestseller, we are committed to books on subjects that are sometimes overlooked and to authors whose work might not otherwise find a home.

List Price:
Our Price:

---
Terry Southern
The Magic Christian -Terry Southern - - The Magic Christian

One of the funniest, cruelest, and most savagely revealing books about American life ever written, The Magic Christian has been called Terry Southern's masterpiece. Guy Grand is an eccentric billionaire — the last of the big spenders — determined to create disorder in the material world and willing to spare no expense to do it. Leading a life full of practical jokes and madcap schemes, his ultimate goal is to prove his theory that there is nothing so degrading or so distasteful that someone won't do it for money. In Guy Grand's world, everyone has a price, and he is all too willing to pay it. A satire of America's obsession with bigness, toughness, money, TV, guns, and sex, The Magic Christian is a hilarious and wickedly original novel from a true comic genius.

List Price:$16.00
Our Price:$12.42

---
Red-Dirt Marijuana and Other Tastes -Terry Southern - - Red Dirt Marijuana And Other Tastes Before New Journalism, before the waggish cinema of Woody Allen, before the Gonzo World of Hunter S. Thompson, Saturday Night Live, and National Lampoon, there was the legendary Terry Southern—author of Candy and The Magic Christian and the screenwriter of Dr. Strangelove and Easy Rider.

Red-Dirt Marijuana and Other Tastes, widely recognized as an underground classic, is a collection of Southern's short pieces, two dozen hilarious, well-observed, and devastating sketches that expose the hypocrisy of American social mores. This edition features an introduction by George Plimpton, one of Southern's longtime literary allies and former editor of The Paris Review.

"Terry Southern is the illegitimate son of Mack Sennett and Edna St. Vincent Millay." —Kurt Vonnegut

"Terry Southern writes a clean, mean, coolly deliberate, and murderous prose." —Norman Mailer

"If there was a Mt. Rushmore of modern American humor, Terry Southern would be the mountain they carve it on."
—Michale O'Donoghue

"Impressive . . . He is both acutely aware of, and the absolute master of the nuances, the ludicrous snobbishness, the deliberate exclusivity of clique vocabulary. . . . With demoniacal cunning he masquerades as the guardian of taste, of responsibility, and of common decency (Mr. Southern's italics, of course)." —New York Times

List Price:$17.95
Our Price:$14.95

---
Now Dig This: The Unspeakable Writings of Terry Southern, 1950-1995 -Terry Southern - - Used Book in Good Condition

Acclaimed novelist, Beat godfather, prolific screenwriter, and one of the founders of New Journalism, as well as the only guy to wear shades on the Beatles' Sgt. Pepper's cover, Terry Southern was an audacious original. Now Dig This is a journey through Terry Southern's America, from the buttoned-down '50s through the sexual revolution, rock 'n' roll, and independent cinema (which he helped inaugurate by cowriting and producing Easy Rider), up to his death in 1995. It spans Southern's stellar career, from early short stories and a Paris Review interview with Henry Green, to his legendary Esquire piece covering the 1968 Chicago Democratic Convention with Jean Genet and William Burroughs and his equally infamous account of life neck-high in girls and cocaine aboard The Rolling Stones' tour jet, to his memories of twentieth-century legends like Abbie Hoffman, Kurt Vonnegut, and Stanley Kubrick, with whom he wrote Dr. Strangelove. "A voice electric with street rhythm and royal with offhand intellection ... stuffed with strange and silken scraps." -- Troy Patterson, Entertainment Weekly "The subterranean Texan's finest moments are exquisite reads ... like a hot poker in the eye of conventional narrative." -- A. D. Amorosi, Philadelphia City Paper "The range of writing ... [was] as lethal as Mailer claimed and still awaiting the attention it deserves." -- Charles Taylor, Newsday "... reveals a writer defined by his generosity, by the pursuit of fun and by an insatiable ... literary appetite...." -- Claire Dederer, The New York Times Book Review

List Price:$13.00
Our Price:$12.98

---
Candy -ARRAY(0x203ddb0) - - Used Book in Good Condition

Banned upon its initial publication, the now-classic Candy is a romp of a story about the impossibly sweet Candy Christian, a wide-eyed, luscious, all-American girl. Candy –– a satire of Voltaire's Candide –– chronicles her adventures with mystics, sexual analysts, and everyone she meets when she sets out to experience the world.

List Price:$14.00
Our Price:$12.51

---
Blue Movie -Terry Southern - - Blue Movie

A hilarious, wildly erotic, and biting satire of Hollywood, Blue Movie tells the story of King B., an Oscar-winning director who's determined to shoot the dirtiest and most expensive X-rated movie ever made; Sid Krassman, a producer who's made a fortune catering to the tastes of the American public, and Angela Sterling, a misunderstood sex symbol who'd give anything (and everything) for a chance to do something "serious." The set is fraught with monstrous egos and enormous libidos — the kind of situation that could only come from the imagination of the irrepressible Terry Southern.

List Price:$15.00
Our Price:$14.98

---
Yours in Haste and Adoration: Selected Letters of Terry Southern -Terry Southern - Terry Southern was one of the most outrageous and penetrating satirists of the twentieth century, judged by Gore Vidal to be "the most profoundly witty writer" of their generation. As a novelist (Candy, The Magic Christian, Blue Movie), screenwriter (Dr. Strangelove, Easy Rider, Barbarella), pioneer of the "New Journalism" at Esquire, and writer for Saturday Night Live, Southern had an incomparable gift for exposing the grotesqueries of the American Way of Life while living it to the full. Southern's list of correspondents reads like a cultural Who's Who of the last half-century. In this collection we find letters to fellow writers including Nelson Algren, William S. Burroughs, George Plimpton, Alex Trocchi, Allen Ginsberg, Henry Green, Gregory Corso, playwright Jack Gelber, and Mason Hoffenberg (co-author of Candy). His letters extend to Hollywood luminaries such as Stanley Kubrick, Dennis Hopper, and George Segal. Southern also corresponded through the years with legendary performers and artists of the day, among them Lenny Bruce, Harry Nilsson, Ringo Starr, John Lennon, Larry Rivers, and gallery scene-maker/impresario Robert Fraser. Even more idiosyncratic and outrageous when writing to his friends than he was for an audience, Southern dashed off a plethora of hilarious, shocking, frequently offensive, and unprintable missives to his many friends and colleagues. As this brilliant collection reveals, Southern was one of the great letter writers of the twentieth century.

List Price:$65.00
Our Price:$65.00

---
Flash and Filigree (Terry Southern) -Terry Southern -

Terry Southern is an acclaimed satirist of American culture, the writer responsible for Candy and the screenplay of Dr. Strangelove. In Flash and Filigree, his first novel, he delivers yet another outrageously funny commentary on the dark side of our national life. Frederick Eichner, world-renowned dermatologist, is visited by the entrancingly irritating Mr. Felix Treevly, who comes to him as a patient and stays as an obsession. Mr. Treevly leads the doctor into a series of hilarious and increasingly weird situations, which, with the assistance of a drunken private detective, a mad judge, a car crash, and a hashish party, finally drive him to mayhem. A wild whirlwind of a novel, Flash and Filigree is a work of comic genius from one of the wittiest writers of our time.

List Price:$12.00
Our Price:$11.59

---
Afro-Vegan: Farm-Fresh African, Caribbean, and Southern Flavors Remixed -Bryant Terry - - Afro Vegan Farm Fresh African Caribbean and Southern Flavors Remixed

In Afro-Vegan, renowned chef and food justice activist Bryant Terry reworks and remixes the favorite staples, ingredients, and classic dishes of the African Diaspora to present more than 100 wholly new, creative culinary combinations that will amaze vegans, vegetarians, and omnivores alike. 

Blending African, Carribean, and southern cuisines results in delicious recipes like Smashed Potatoes, Peas, and Corn with Chile-Garlic Oil, a recipe inspired by the Kenyan dish irio, and Cinnamon-Soaked Wheat Berry Salad with dried apricots, carrots, and almonds, which is based on a Moroccan tagine. Creamy Coconut-Cashew Soup with Okra, Corn, and Tomatoes pays homage to a popular Brazilian dish while incorporating classic Southern ingredients, and Crispy Teff and Grit Cakes with Eggplant, Tomatoes, and Peanuts combines the Ethiopian grain teff with stone-ground corn grits from the Deep South and North African zalook dip. There's perfect potluck fare, such as the simple, warming, and intensely flavored Collard Greens and Cabbage with Lots of Garlic, and the Caribbean-inspired Cocoa Spice Cake with Crystallized Ginger and Coconut-Chocolate Ganache, plus a refreshing Roselle-Rooibos Drink that will satisfy any sweet tooth. 

With more than 100 modern and delicious dishes that draw on Terry's personal memories as well as the history of food that has traveled from the African continent, Afro-Vegan takes you on an international food journey. Accompanying the recipes are Terry's insights about building community around food, along with suggested music tracks from around the world and book recommendations. For anyone interested in improving their well-being, Afro-Vegan's groundbreaking recipes offer innovative, plant-based global cuisine that is fresh, healthy, and forges a new direction in vegan cooking.

List Price:$27.50
Our Price:$18.70

---
Candy -ARRAY(0x2777db0) -

List Price:
Our Price:

---
Texas Summer: A Novel -Terry Southern -

Harold Stevens is twelve years old, heading hell-bent for thirteen, away from the comfort of his mother's care to the realities of the world beyond. Grandfather would gladly initiate him into the world's ways, but his lessons are more prattle than practical. Harold's older friends dare him into danger and expose him to new—and not always edifying—experiences. But his real mentor is C.K., the twenty-three-year-old black hired hand on his father's farm.

Together they fish for the legendary catfish down at the local pond, dare bulls, pick gage from among the wild cactus, and carefully dry it and store it for future use. C.K. takes Harold with him when he run errands in town, and brings him into the mysterious black world beyond the railroad tracks. There Harold learns of C.K.'s big brother, "Big Nail" Emmet, doing time for murder, and of Big Nail's wife, Cora Lee. There is a fraying bond between the two brothers that Harold senses but cannot really fathom. Until one day the two brothers meet in a macabre, ritualistic dance of death.

Sensitive, understated, Texas Summer evokes a time and place with the same sensitivity one finds in Hemingway's Nick Adams stories.

Skyhorse Publishing, as well as our Arcade, Yucca, and Good Books imprints, are proud to publish a broad range of books for readers interested in fiction—novels, novellas, political and medical thrillers, comedy, satire, historical fiction, romance, erotic and love stories, mystery, classic literature, folklore and mythology, literary classics including Shakespeare, Dumas, Wilde, Cather, and much more. While not every title we publish becomes a New York Times bestseller or a national bestseller, we are committed to books on subjects that are sometimes overlooked and to authors whose work might not otherwise find a home.

List Price:$14.95
Our Price:$6.99

---
More Terry Southern on DVD
The Magic Christian -Terry Southern - - Factory sealed DVD

Harold Stevens is twelve years old, heading hell-bent for thirteen, away from the comfort of his mother's care to the realities of the world beyond. Grandfather would gladly initiate him into the world's ways, but his lessons are more prattle than practical. Harold's older friends dare him into danger and expose him to new—and not always edifying—experiences. But his real mentor is C.K., the twenty-three-year-old black hired hand on his father's farm.

Together they fish for the legendary catfish down at the local pond, dare bulls, pick gage from among the wild cactus, and carefully dry it and store it for future use. C.K. takes Harold with him when he run errands in town, and brings him into the mysterious black world beyond the railroad tracks. There Harold learns of C.K.'s big brother, "Big Nail" Emmet, doing time for murder, and of Big Nail's wife, Cora Lee. There is a fraying bond between the two brothers that Harold senses but cannot really fathom. Until one day the two brothers meet in a macabre, ritualistic dance of death.

Sensitive, understated, Texas Summer evokes a time and place with the same sensitivity one finds in Hemingway's Nick Adams stories.

Skyhorse Publishing, as well as our Arcade, Yucca, and Good Books imprints, are proud to publish a broad range of books for readers interested in fiction—novels, novellas, political and medical thrillers, comedy, satire, historical fiction, romance, erotic and love stories, mystery, classic literature, folklore and mythology, literary classics including Shakespeare, Dumas, Wilde, Cather, and much more. While not every title we publish becomes a New York Times bestseller or a national bestseller, we are committed to books on subjects that are sometimes overlooked and to authors whose work might not otherwise find a home.

List Price:$17.88
Our Price:$17.88

---
The Magic Christian (Si Quieres Ser Millonario No Malgastes El Tiempo Trabajando) -Terry Southern -

Harold Stevens is twelve years old, heading hell-bent for thirteen, away from the comfort of his mother's care to the realities of the world beyond. Grandfather would gladly initiate him into the world's ways, but his lessons are more prattle than practical. Harold's older friends dare him into danger and expose him to new—and not always edifying—experiences. But his real mentor is C.K., the twenty-three-year-old black hired hand on his father's farm.

Together they fish for the legendary catfish down at the local pond, dare bulls, pick gage from among the wild cactus, and carefully dry it and store it for future use. C.K. takes Harold with him when he run errands in town, and brings him into the mysterious black world beyond the railroad tracks. There Harold learns of C.K.'s big brother, "Big Nail" Emmet, doing time for murder, and of Big Nail's wife, Cora Lee. There is a fraying bond between the two brothers that Harold senses but cannot really fathom. Until one day the two brothers meet in a macabre, ritualistic dance of death.

Sensitive, understated, Texas Summer evokes a time and place with the same sensitivity one finds in Hemingway's Nick Adams stories.

Skyhorse Publishing, as well as our Arcade, Yucca, and Good Books imprints, are proud to publish a broad range of books for readers interested in fiction—novels, novellas, political and medical thrillers, comedy, satire, historical fiction, romance, erotic and love stories, mystery, classic literature, folklore and mythology, literary classics including Shakespeare, Dumas, Wilde, Cather, and much more. While not every title we publish becomes a New York Times bestseller or a national bestseller, we are committed to books on subjects that are sometimes overlooked and to authors whose work might not otherwise find a home.

List Price:
Our Price:

---
More Terry Southern on DVD
Casino Royale -Terry Southern -

Harold Stevens is twelve years old, heading hell-bent for thirteen, away from the comfort of his mother's care to the realities of the world beyond. Grandfather would gladly initiate him into the world's ways, but his lessons are more prattle than practical. Harold's older friends dare him into danger and expose him to new—and not always edifying—experiences. But his real mentor is C.K., the twenty-three-year-old black hired hand on his father's farm.

Together they fish for the legendary catfish down at the local pond, dare bulls, pick gage from among the wild cactus, and carefully dry it and store it for future use. C.K. takes Harold with him when he run errands in town, and brings him into the mysterious black world beyond the railroad tracks. There Harold learns of C.K.'s big brother, "Big Nail" Emmet, doing time for murder, and of Big Nail's wife, Cora Lee. There is a fraying bond between the two brothers that Harold senses but cannot really fathom. Until one day the two brothers meet in a macabre, ritualistic dance of death.

Sensitive, understated, Texas Summer evokes a time and place with the same sensitivity one finds in Hemingway's Nick Adams stories.

Skyhorse Publishing, as well as our Arcade, Yucca, and Good Books imprints, are proud to publish a broad range of books for readers interested in fiction—novels, novellas, political and medical thrillers, comedy, satire, historical fiction, romance, erotic and love stories, mystery, classic literature, folklore and mythology, literary classics including Shakespeare, Dumas, Wilde, Cather, and much more. While not every title we publish becomes a New York Times bestseller or a national bestseller, we are committed to books on subjects that are sometimes overlooked and to authors whose work might not otherwise find a home.

List Price:
Our Price:

---
Death in Venice - CASINO ROYALE -Terry Southern -

Harold Stevens is twelve years old, heading hell-bent for thirteen, away from the comfort of his mother's care to the realities of the world beyond. Grandfather would gladly initiate him into the world's ways, but his lessons are more prattle than practical. Harold's older friends dare him into danger and expose him to new—and not always edifying—experiences. But his real mentor is C.K., the twenty-three-year-old black hired hand on his father's farm.

Together they fish for the legendary catfish down at the local pond, dare bulls, pick gage from among the wild cactus, and carefully dry it and store it for future use. C.K. takes Harold with him when he run errands in town, and brings him into the mysterious black world beyond the railroad tracks. There Harold learns of C.K.'s big brother, "Big Nail" Emmet, doing time for murder, and of Big Nail's wife, Cora Lee. There is a fraying bond between the two brothers that Harold senses but cannot really fathom. Until one day the two brothers meet in a macabre, ritualistic dance of death.

Sensitive, understated, Texas Summer evokes a time and place with the same sensitivity one finds in Hemingway's Nick Adams stories.

Skyhorse Publishing, as well as our Arcade, Yucca, and Good Books imprints, are proud to publish a broad range of books for readers interested in fiction—novels, novellas, political and medical thrillers, comedy, satire, historical fiction, romance, erotic and love stories, mystery, classic literature, folklore and mythology, literary classics including Shakespeare, Dumas, Wilde, Cather, and much more. While not every title we publish becomes a New York Times bestseller or a national bestseller, we are committed to books on subjects that are sometimes overlooked and to authors whose work might not otherwise find a home.

List Price:$14.99
Our Price:$14.99

---
Casino Royale (1968) -Terry Southern -

Harold Stevens is twelve years old, heading hell-bent for thirteen, away from the comfort of his mother's care to the realities of the world beyond. Grandfather would gladly initiate him into the world's ways, but his lessons are more prattle than practical. Harold's older friends dare him into danger and expose him to new—and not always edifying—experiences. But his real mentor is C.K., the twenty-three-year-old black hired hand on his father's farm.

Together they fish for the legendary catfish down at the local pond, dare bulls, pick gage from among the wild cactus, and carefully dry it and store it for future use. C.K. takes Harold with him when he run errands in town, and brings him into the mysterious black world beyond the railroad tracks. There Harold learns of C.K.'s big brother, "Big Nail" Emmet, doing time for murder, and of Big Nail's wife, Cora Lee. There is a fraying bond between the two brothers that Harold senses but cannot really fathom. Until one day the two brothers meet in a macabre, ritualistic dance of death.

Sensitive, understated, Texas Summer evokes a time and place with the same sensitivity one finds in Hemingway's Nick Adams stories.

Skyhorse Publishing, as well as our Arcade, Yucca, and Good Books imprints, are proud to publish a broad range of books for readers interested in fiction—novels, novellas, political and medical thrillers, comedy, satire, historical fiction, romance, erotic and love stories, mystery, classic literature, folklore and mythology, literary classics including Shakespeare, Dumas, Wilde, Cather, and much more. While not every title we publish becomes a New York Times bestseller or a national bestseller, we are committed to books on subjects that are sometimes overlooked and to authors whose work might not otherwise find a home.

List Price:$2.99
Our Price:$2.99

---
Casino Royale -Terry Southern -

Harold Stevens is twelve years old, heading hell-bent for thirteen, away from the comfort of his mother's care to the realities of the world beyond. Grandfather would gladly initiate him into the world's ways, but his lessons are more prattle than practical. Harold's older friends dare him into danger and expose him to new—and not always edifying—experiences. But his real mentor is C.K., the twenty-three-year-old black hired hand on his father's farm.

Together they fish for the legendary catfish down at the local pond, dare bulls, pick gage from among the wild cactus, and carefully dry it and store it for future use. C.K. takes Harold with him when he run errands in town, and brings him into the mysterious black world beyond the railroad tracks. There Harold learns of C.K.'s big brother, "Big Nail" Emmet, doing time for murder, and of Big Nail's wife, Cora Lee. There is a fraying bond between the two brothers that Harold senses but cannot really fathom. Until one day the two brothers meet in a macabre, ritualistic dance of death.

Sensitive, understated, Texas Summer evokes a time and place with the same sensitivity one finds in Hemingway's Nick Adams stories.

Skyhorse Publishing, as well as our Arcade, Yucca, and Good Books imprints, are proud to publish a broad range of books for readers interested in fiction—novels, novellas, political and medical thrillers, comedy, satire, historical fiction, romance, erotic and love stories, mystery, classic literature, folklore and mythology, literary classics including Shakespeare, Dumas, Wilde, Cather, and much more. While not every title we publish becomes a New York Times bestseller or a national bestseller, we are committed to books on subjects that are sometimes overlooked and to authors whose work might not otherwise find a home.

List Price:$9.98
Our Price:$5.00

---
The Real Casino Royale -Terry Southern -

Harold Stevens is twelve years old, heading hell-bent for thirteen, away from the comfort of his mother's care to the realities of the world beyond. Grandfather would gladly initiate him into the world's ways, but his lessons are more prattle than practical. Harold's older friends dare him into danger and expose him to new—and not always edifying—experiences. But his real mentor is C.K., the twenty-three-year-old black hired hand on his father's farm.

Together they fish for the legendary catfish down at the local pond, dare bulls, pick gage from among the wild cactus, and carefully dry it and store it for future use. C.K. takes Harold with him when he run errands in town, and brings him into the mysterious black world beyond the railroad tracks. There Harold learns of C.K.'s big brother, "Big Nail" Emmet, doing time for murder, and of Big Nail's wife, Cora Lee. There is a fraying bond between the two brothers that Harold senses but cannot really fathom. Until one day the two brothers meet in a macabre, ritualistic dance of death.

Sensitive, understated, Texas Summer evokes a time and place with the same sensitivity one finds in Hemingway's Nick Adams stories.

Skyhorse Publishing, as well as our Arcade, Yucca, and Good Books imprints, are proud to publish a broad range of books for readers interested in fiction—novels, novellas, political and medical thrillers, comedy, satire, historical fiction, romance, erotic and love stories, mystery, classic literature, folklore and mythology, literary classics including Shakespeare, Dumas, Wilde, Cather, and much more. While not every title we publish becomes a New York Times bestseller or a national bestseller, we are committed to books on subjects that are sometimes overlooked and to authors whose work might not otherwise find a home.

List Price:
Our Price:

---
Casino Royale (1967) [Blu-ray] -Terry Southern - - 1080p Hi-Def Picture and Lossless Audio Mix - Audio Commentary with James Bond historians Steven Jay Rubin and John Cork - "The Making of Casino Royale" Featurette - Original Trailer & More!

Harold Stevens is twelve years old, heading hell-bent for thirteen, away from the comfort of his mother's care to the realities of the world beyond. Grandfather would gladly initiate him into the world's ways, but his lessons are more prattle than practical. Harold's older friends dare him into danger and expose him to new—and not always edifying—experiences. But his real mentor is C.K., the twenty-three-year-old black hired hand on his father's farm.

Together they fish for the legendary catfish down at the local pond, dare bulls, pick gage from among the wild cactus, and carefully dry it and store it for future use. C.K. takes Harold with him when he run errands in town, and brings him into the mysterious black world beyond the railroad tracks. There Harold learns of C.K.'s big brother, "Big Nail" Emmet, doing time for murder, and of Big Nail's wife, Cora Lee. There is a fraying bond between the two brothers that Harold senses but cannot really fathom. Until one day the two brothers meet in a macabre, ritualistic dance of death.

Sensitive, understated, Texas Summer evokes a time and place with the same sensitivity one finds in Hemingway's Nick Adams stories.

Skyhorse Publishing, as well as our Arcade, Yucca, and Good Books imprints, are proud to publish a broad range of books for readers interested in fiction—novels, novellas, political and medical thrillers, comedy, satire, historical fiction, romance, erotic and love stories, mystery, classic literature, folklore and mythology, literary classics including Shakespeare, Dumas, Wilde, Cather, and much more. While not every title we publish becomes a New York Times bestseller or a national bestseller, we are committed to books on subjects that are sometimes overlooked and to authors whose work might not otherwise find a home.

List Price:$8.58
Our Price:$8.58

---
Casino Royale (Two-Disc Widescreen Edition) by Sony Pictures Home Entertainment -Terry Southern -

Harold Stevens is twelve years old, heading hell-bent for thirteen, away from the comfort of his mother's care to the realities of the world beyond. Grandfather would gladly initiate him into the world's ways, but his lessons are more prattle than practical. Harold's older friends dare him into danger and expose him to new—and not always edifying—experiences. But his real mentor is C.K., the twenty-three-year-old black hired hand on his father's farm.

Together they fish for the legendary catfish down at the local pond, dare bulls, pick gage from among the wild cactus, and carefully dry it and store it for future use. C.K. takes Harold with him when he run errands in town, and brings him into the mysterious black world beyond the railroad tracks. There Harold learns of C.K.'s big brother, "Big Nail" Emmet, doing time for murder, and of Big Nail's wife, Cora Lee. There is a fraying bond between the two brothers that Harold senses but cannot really fathom. Until one day the two brothers meet in a macabre, ritualistic dance of death.

Sensitive, understated, Texas Summer evokes a time and place with the same sensitivity one finds in Hemingway's Nick Adams stories.

Skyhorse Publishing, as well as our Arcade, Yucca, and Good Books imprints, are proud to publish a broad range of books for readers interested in fiction—novels, novellas, political and medical thrillers, comedy, satire, historical fiction, romance, erotic and love stories, mystery, classic literature, folklore and mythology, literary classics including Shakespeare, Dumas, Wilde, Cather, and much more. While not every title we publish becomes a New York Times bestseller or a national bestseller, we are committed to books on subjects that are sometimes overlooked and to authors whose work might not otherwise find a home.

List Price:
Our Price:

---
007: Daniel Craig Collection (Casino Royale / Quantum of Solace / Skyfall) [Blu-ray] -Terry Southern -

Harold Stevens is twelve years old, heading hell-bent for thirteen, away from the comfort of his mother's care to the realities of the world beyond. Grandfather would gladly initiate him into the world's ways, but his lessons are more prattle than practical. Harold's older friends dare him into danger and expose him to new—and not always edifying—experiences. But his real mentor is C.K., the twenty-three-year-old black hired hand on his father's farm.

Together they fish for the legendary catfish down at the local pond, dare bulls, pick gage from among the wild cactus, and carefully dry it and store it for future use. C.K. takes Harold with him when he run errands in town, and brings him into the mysterious black world beyond the railroad tracks. There Harold learns of C.K.'s big brother, "Big Nail" Emmet, doing time for murder, and of Big Nail's wife, Cora Lee. There is a fraying bond between the two brothers that Harold senses but cannot really fathom. Until one day the two brothers meet in a macabre, ritualistic dance of death.

Sensitive, understated, Texas Summer evokes a time and place with the same sensitivity one finds in Hemingway's Nick Adams stories.

Skyhorse Publishing, as well as our Arcade, Yucca, and Good Books imprints, are proud to publish a broad range of books for readers interested in fiction—novels, novellas, political and medical thrillers, comedy, satire, historical fiction, romance, erotic and love stories, mystery, classic literature, folklore and mythology, literary classics including Shakespeare, Dumas, Wilde, Cather, and much more. While not every title we publish becomes a New York Times bestseller or a national bestseller, we are committed to books on subjects that are sometimes overlooked and to authors whose work might not otherwise find a home.

List Price:$54.99
Our Price:

---
Quantum of Solace and Casino Royale - Daniel Craig - 2 Movie Disc [Blu-ray] -Terry Southern -

Harold Stevens is twelve years old, heading hell-bent for thirteen, away from the comfort of his mother's care to the realities of the world beyond. Grandfather would gladly initiate him into the world's ways, but his lessons are more prattle than practical. Harold's older friends dare him into danger and expose him to new—and not always edifying—experiences. But his real mentor is C.K., the twenty-three-year-old black hired hand on his father's farm.

Together they fish for the legendary catfish down at the local pond, dare bulls, pick gage from among the wild cactus, and carefully dry it and store it for future use. C.K. takes Harold with him when he run errands in town, and brings him into the mysterious black world beyond the railroad tracks. There Harold learns of C.K.'s big brother, "Big Nail" Emmet, doing time for murder, and of Big Nail's wife, Cora Lee. There is a fraying bond between the two brothers that Harold senses but cannot really fathom. Until one day the two brothers meet in a macabre, ritualistic dance of death.

Sensitive, understated, Texas Summer evokes a time and place with the same sensitivity one finds in Hemingway's Nick Adams stories.

Skyhorse Publishing, as well as our Arcade, Yucca, and Good Books imprints, are proud to publish a broad range of books for readers interested in fiction—novels, novellas, political and medical thrillers, comedy, satire, historical fiction, romance, erotic and love stories, mystery, classic literature, folklore and mythology, literary classics including Shakespeare, Dumas, Wilde, Cather, and much more. While not every title we publish becomes a New York Times bestseller or a national bestseller, we are committed to books on subjects that are sometimes overlooked and to authors whose work might not otherwise find a home.

List Price:$24.99
Our Price:

---
The Daniel Craig Collection - James Bond 007 - Limited Edition Steelbook - Includes Casino Royale, Quantum Of Solace, Skyfall [Digital HD] [Blu-ray] -Terry Southern - - Casino Royale - Quantum Of Solace - Skyfall

Harold Stevens is twelve years old, heading hell-bent for thirteen, away from the comfort of his mother's care to the realities of the world beyond. Grandfather would gladly initiate him into the world's ways, but his lessons are more prattle than practical. Harold's older friends dare him into danger and expose him to new—and not always edifying—experiences. But his real mentor is C.K., the twenty-three-year-old black hired hand on his father's farm.

Together they fish for the legendary catfish down at the local pond, dare bulls, pick gage from among the wild cactus, and carefully dry it and store it for future use. C.K. takes Harold with him when he run errands in town, and brings him into the mysterious black world beyond the railroad tracks. There Harold learns of C.K.'s big brother, "Big Nail" Emmet, doing time for murder, and of Big Nail's wife, Cora Lee. There is a fraying bond between the two brothers that Harold senses but cannot really fathom. Until one day the two brothers meet in a macabre, ritualistic dance of death.

Sensitive, understated, Texas Summer evokes a time and place with the same sensitivity one finds in Hemingway's Nick Adams stories.

Skyhorse Publishing, as well as our Arcade, Yucca, and Good Books imprints, are proud to publish a broad range of books for readers interested in fiction—novels, novellas, political and medical thrillers, comedy, satire, historical fiction, romance, erotic and love stories, mystery, classic literature, folklore and mythology, literary classics including Shakespeare, Dumas, Wilde, Cather, and much more. While not every title we publish becomes a New York Times bestseller or a national bestseller, we are committed to books on subjects that are sometimes overlooked and to authors whose work might not otherwise find a home.

List Price:$29.99
Our Price:

---
More Terry Southern on DVD
Barbarella -Terry Southern -

Harold Stevens is twelve years old, heading hell-bent for thirteen, away from the comfort of his mother's care to the realities of the world beyond. Grandfather would gladly initiate him into the world's ways, but his lessons are more prattle than practical. Harold's older friends dare him into danger and expose him to new—and not always edifying—experiences. But his real mentor is C.K., the twenty-three-year-old black hired hand on his father's farm.

Together they fish for the legendary catfish down at the local pond, dare bulls, pick gage from among the wild cactus, and carefully dry it and store it for future use. C.K. takes Harold with him when he run errands in town, and brings him into the mysterious black world beyond the railroad tracks. There Harold learns of C.K.'s big brother, "Big Nail" Emmet, doing time for murder, and of Big Nail's wife, Cora Lee. There is a fraying bond between the two brothers that Harold senses but cannot really fathom. Until one day the two brothers meet in a macabre, ritualistic dance of death.

Sensitive, understated, Texas Summer evokes a time and place with the same sensitivity one finds in Hemingway's Nick Adams stories.

Skyhorse Publishing, as well as our Arcade, Yucca, and Good Books imprints, are proud to publish a broad range of books for readers interested in fiction—novels, novellas, political and medical thrillers, comedy, satire, historical fiction, romance, erotic and love stories, mystery, classic literature, folklore and mythology, literary classics including Shakespeare, Dumas, Wilde, Cather, and much more. While not every title we publish becomes a New York Times bestseller or a national bestseller, we are committed to books on subjects that are sometimes overlooked and to authors whose work might not otherwise find a home.

List Price:$9.99
Our Price:$9.99

---
Barbarella -Terry Southern - - SCIENCE FICTION - Run Time: 98 - Release Date: 8/22/2006 - PG - JANE FONDA DAVID HEMMINGS

Harold Stevens is twelve years old, heading hell-bent for thirteen, away from the comfort of his mother's care to the realities of the world beyond. Grandfather would gladly initiate him into the world's ways, but his lessons are more prattle than practical. Harold's older friends dare him into danger and expose him to new—and not always edifying—experiences. But his real mentor is C.K., the twenty-three-year-old black hired hand on his father's farm.

Together they fish for the legendary catfish down at the local pond, dare bulls, pick gage from among the wild cactus, and carefully dry it and store it for future use. C.K. takes Harold with him when he run errands in town, and brings him into the mysterious black world beyond the railroad tracks. There Harold learns of C.K.'s big brother, "Big Nail" Emmet, doing time for murder, and of Big Nail's wife, Cora Lee. There is a fraying bond between the two brothers that Harold senses but cannot really fathom. Until one day the two brothers meet in a macabre, ritualistic dance of death.

Sensitive, understated, Texas Summer evokes a time and place with the same sensitivity one finds in Hemingway's Nick Adams stories.

Skyhorse Publishing, as well as our Arcade, Yucca, and Good Books imprints, are proud to publish a broad range of books for readers interested in fiction—novels, novellas, political and medical thrillers, comedy, satire, historical fiction, romance, erotic and love stories, mystery, classic literature, folklore and mythology, literary classics including Shakespeare, Dumas, Wilde, Cather, and much more. While not every title we publish becomes a New York Times bestseller or a national bestseller, we are committed to books on subjects that are sometimes overlooked and to authors whose work might not otherwise find a home.

List Price:$7.89
Our Price:$7.39

---
Barbarella -Terry Southern -

Harold Stevens is twelve years old, heading hell-bent for thirteen, away from the comfort of his mother's care to the realities of the world beyond. Grandfather would gladly initiate him into the world's ways, but his lessons are more prattle than practical. Harold's older friends dare him into danger and expose him to new—and not always edifying—experiences. But his real mentor is C.K., the twenty-three-year-old black hired hand on his father's farm.

Together they fish for the legendary catfish down at the local pond, dare bulls, pick gage from among the wild cactus, and carefully dry it and store it for future use. C.K. takes Harold with him when he run errands in town, and brings him into the mysterious black world beyond the railroad tracks. There Harold learns of C.K.'s big brother, "Big Nail" Emmet, doing time for murder, and of Big Nail's wife, Cora Lee. There is a fraying bond between the two brothers that Harold senses but cannot really fathom. Until one day the two brothers meet in a macabre, ritualistic dance of death.

Sensitive, understated, Texas Summer evokes a time and place with the same sensitivity one finds in Hemingway's Nick Adams stories.

Skyhorse Publishing, as well as our Arcade, Yucca, and Good Books imprints, are proud to publish a broad range of books for readers interested in fiction—novels, novellas, political and medical thrillers, comedy, satire, historical fiction, romance, erotic and love stories, mystery, classic literature, folklore and mythology, literary classics including Shakespeare, Dumas, Wilde, Cather, and much more. While not every title we publish becomes a New York Times bestseller or a national bestseller, we are committed to books on subjects that are sometimes overlooked and to authors whose work might not otherwise find a home.

List Price:
Our Price:

---
Barbarella - Queen Of The Galaxy -Terry Southern -

Harold Stevens is twelve years old, heading hell-bent for thirteen, away from the comfort of his mother's care to the realities of the world beyond. Grandfather would gladly initiate him into the world's ways, but his lessons are more prattle than practical. Harold's older friends dare him into danger and expose him to new—and not always edifying—experiences. But his real mentor is C.K., the twenty-three-year-old black hired hand on his father's farm.

Together they fish for the legendary catfish down at the local pond, dare bulls, pick gage from among the wild cactus, and carefully dry it and store it for future use. C.K. takes Harold with him when he run errands in town, and brings him into the mysterious black world beyond the railroad tracks. There Harold learns of C.K.'s big brother, "Big Nail" Emmet, doing time for murder, and of Big Nail's wife, Cora Lee. There is a fraying bond between the two brothers that Harold senses but cannot really fathom. Until one day the two brothers meet in a macabre, ritualistic dance of death.

Sensitive, understated, Texas Summer evokes a time and place with the same sensitivity one finds in Hemingway's Nick Adams stories.

Skyhorse Publishing, as well as our Arcade, Yucca, and Good Books imprints, are proud to publish a broad range of books for readers interested in fiction—novels, novellas, political and medical thrillers, comedy, satire, historical fiction, romance, erotic and love stories, mystery, classic literature, folklore and mythology, literary classics including Shakespeare, Dumas, Wilde, Cather, and much more. While not every title we publish becomes a New York Times bestseller or a national bestseller, we are committed to books on subjects that are sometimes overlooked and to authors whose work might not otherwise find a home.

List Price:$26.81
Our Price:$26.81

---
Finale -Terry Southern -

Harold Stevens is twelve years old, heading hell-bent for thirteen, away from the comfort of his mother's care to the realities of the world beyond. Grandfather would gladly initiate him into the world's ways, but his lessons are more prattle than practical. Harold's older friends dare him into danger and expose him to new—and not always edifying—experiences. But his real mentor is C.K., the twenty-three-year-old black hired hand on his father's farm.

Together they fish for the legendary catfish down at the local pond, dare bulls, pick gage from among the wild cactus, and carefully dry it and store it for future use. C.K. takes Harold with him when he run errands in town, and brings him into the mysterious black world beyond the railroad tracks. There Harold learns of C.K.'s big brother, "Big Nail" Emmet, doing time for murder, and of Big Nail's wife, Cora Lee. There is a fraying bond between the two brothers that Harold senses but cannot really fathom. Until one day the two brothers meet in a macabre, ritualistic dance of death.

Sensitive, understated, Texas Summer evokes a time and place with the same sensitivity one finds in Hemingway's Nick Adams stories.

Skyhorse Publishing, as well as our Arcade, Yucca, and Good Books imprints, are proud to publish a broad range of books for readers interested in fiction—novels, novellas, political and medical thrillers, comedy, satire, historical fiction, romance, erotic and love stories, mystery, classic literature, folklore and mythology, literary classics including Shakespeare, Dumas, Wilde, Cather, and much more. While not every title we publish becomes a New York Times bestseller or a national bestseller, we are committed to books on subjects that are sometimes overlooked and to authors whose work might not otherwise find a home.

List Price:$1.99
Our Price:$1.99

---
Bandas do Sul - Brilha Som / Barbarella / Som Sete / Cheiro de Pai -Terry Southern -

Harold Stevens is twelve years old, heading hell-bent for thirteen, away from the comfort of his mother's care to the realities of the world beyond. Grandfather would gladly initiate him into the world's ways, but his lessons are more prattle than practical. Harold's older friends dare him into danger and expose him to new—and not always edifying—experiences. But his real mentor is C.K., the twenty-three-year-old black hired hand on his father's farm.

Together they fish for the legendary catfish down at the local pond, dare bulls, pick gage from among the wild cactus, and carefully dry it and store it for future use. C.K. takes Harold with him when he run errands in town, and brings him into the mysterious black world beyond the railroad tracks. There Harold learns of C.K.'s big brother, "Big Nail" Emmet, doing time for murder, and of Big Nail's wife, Cora Lee. There is a fraying bond between the two brothers that Harold senses but cannot really fathom. Until one day the two brothers meet in a macabre, ritualistic dance of death.

Sensitive, understated, Texas Summer evokes a time and place with the same sensitivity one finds in Hemingway's Nick Adams stories.

Skyhorse Publishing, as well as our Arcade, Yucca, and Good Books imprints, are proud to publish a broad range of books for readers interested in fiction—novels, novellas, political and medical thrillers, comedy, satire, historical fiction, romance, erotic and love stories, mystery, classic literature, folklore and mythology, literary classics including Shakespeare, Dumas, Wilde, Cather, and much more. While not every title we publish becomes a New York Times bestseller or a national bestseller, we are committed to books on subjects that are sometimes overlooked and to authors whose work might not otherwise find a home.

List Price:
Our Price:

---
Barbarella (La Venus Del Espacio) -Terry Southern -

Harold Stevens is twelve years old, heading hell-bent for thirteen, away from the comfort of his mother's care to the realities of the world beyond. Grandfather would gladly initiate him into the world's ways, but his lessons are more prattle than practical. Harold's older friends dare him into danger and expose him to new—and not always edifying—experiences. But his real mentor is C.K., the twenty-three-year-old black hired hand on his father's farm.

Together they fish for the legendary catfish down at the local pond, dare bulls, pick gage from among the wild cactus, and carefully dry it and store it for future use. C.K. takes Harold with him when he run errands in town, and brings him into the mysterious black world beyond the railroad tracks. There Harold learns of C.K.'s big brother, "Big Nail" Emmet, doing time for murder, and of Big Nail's wife, Cora Lee. There is a fraying bond between the two brothers that Harold senses but cannot really fathom. Until one day the two brothers meet in a macabre, ritualistic dance of death.

Sensitive, understated, Texas Summer evokes a time and place with the same sensitivity one finds in Hemingway's Nick Adams stories.

Skyhorse Publishing, as well as our Arcade, Yucca, and Good Books imprints, are proud to publish a broad range of books for readers interested in fiction—novels, novellas, political and medical thrillers, comedy, satire, historical fiction, romance, erotic and love stories, mystery, classic literature, folklore and mythology, literary classics including Shakespeare, Dumas, Wilde, Cather, and much more. While not every title we publish becomes a New York Times bestseller or a national bestseller, we are committed to books on subjects that are sometimes overlooked and to authors whose work might not otherwise find a home.

List Price:
Our Price:

---
Jane Fonda Collection ('Barbarella (La Venus Del Espacio)', 'Descalzos Por El Parque', 'En El Estanque Dorado', 'Lo Dice Georgia' Y 'El Jinete Eléctrico') (Estuche Metalico) (5 Dvd) (Dvd Neuf Sous Plastique) -Terry Southern -

Harold Stevens is twelve years old, heading hell-bent for thirteen, away from the comfort of his mother's care to the realities of the world beyond. Grandfather would gladly initiate him into the world's ways, but his lessons are more prattle than practical. Harold's older friends dare him into danger and expose him to new—and not always edifying—experiences. But his real mentor is C.K., the twenty-three-year-old black hired hand on his father's farm.

Together they fish for the legendary catfish down at the local pond, dare bulls, pick gage from among the wild cactus, and carefully dry it and store it for future use. C.K. takes Harold with him when he run errands in town, and brings him into the mysterious black world beyond the railroad tracks. There Harold learns of C.K.'s big brother, "Big Nail" Emmet, doing time for murder, and of Big Nail's wife, Cora Lee. There is a fraying bond between the two brothers that Harold senses but cannot really fathom. Until one day the two brothers meet in a macabre, ritualistic dance of death.

Sensitive, understated, Texas Summer evokes a time and place with the same sensitivity one finds in Hemingway's Nick Adams stories.

Skyhorse Publishing, as well as our Arcade, Yucca, and Good Books imprints, are proud to publish a broad range of books for readers interested in fiction—novels, novellas, political and medical thrillers, comedy, satire, historical fiction, romance, erotic and love stories, mystery, classic literature, folklore and mythology, literary classics including Shakespeare, Dumas, Wilde, Cather, and much more. While not every title we publish becomes a New York Times bestseller or a national bestseller, we are committed to books on subjects that are sometimes overlooked and to authors whose work might not otherwise find a home.

List Price:
Our Price:

---
Barbarella: Queen of the Galaxy (Barbarella: Reina de la Galaxia) aka (Barbarella: La Venus del Espacio) [ NON-USA FORMAT, NTSC, Reg.4 Import - Latin America ] -Terry Southern -

Harold Stevens is twelve years old, heading hell-bent for thirteen, away from the comfort of his mother's care to the realities of the world beyond. Grandfather would gladly initiate him into the world's ways, but his lessons are more prattle than practical. Harold's older friends dare him into danger and expose him to new—and not always edifying—experiences. But his real mentor is C.K., the twenty-three-year-old black hired hand on his father's farm.

Together they fish for the legendary catfish down at the local pond, dare bulls, pick gage from among the wild cactus, and carefully dry it and store it for future use. C.K. takes Harold with him when he run errands in town, and brings him into the mysterious black world beyond the railroad tracks. There Harold learns of C.K.'s big brother, "Big Nail" Emmet, doing time for murder, and of Big Nail's wife, Cora Lee. There is a fraying bond between the two brothers that Harold senses but cannot really fathom. Until one day the two brothers meet in a macabre, ritualistic dance of death.

Sensitive, understated, Texas Summer evokes a time and place with the same sensitivity one finds in Hemingway's Nick Adams stories.

Skyhorse Publishing, as well as our Arcade, Yucca, and Good Books imprints, are proud to publish a broad range of books for readers interested in fiction—novels, novellas, political and medical thrillers, comedy, satire, historical fiction, romance, erotic and love stories, mystery, classic literature, folklore and mythology, literary classics including Shakespeare, Dumas, Wilde, Cather, and much more. While not every title we publish becomes a New York Times bestseller or a national bestseller, we are committed to books on subjects that are sometimes overlooked and to authors whose work might not otherwise find a home.

List Price:
Our Price:

---